What is a modern city and how to live in it? The questions may seem simple, but there are so many different answers! Our small international team of the project camp in Munich tried to find and implement them in 2018, 1–12 of August.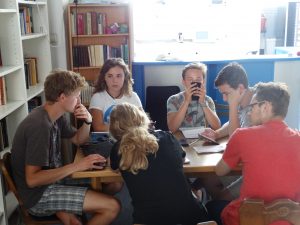 With their tutors' help, schoolchildren and students from Russia, Germany and Spain developed three projects aimed at improving a modern city (using the example of Munich):
Passive house (House, functioning independently)
Educational program in ZOO (Educational program at a zoo),
Navigation app (Application to prevent a large number of traffic jams).
10 days the guys were creating new ideas, offering ways to implement them, having considered the structural, functional, financial and socio-political aspects. For a visual representation of what needs to be done, each group had a tour aimed at improving their project: an already existing Passive house in Munich, the Tierpark Hellabrunn (zoo) and the Westpark section, where you can examine in detail the busy transport route of the city. The result of the work was a general presentation of the projects, which took place at the end of the camp. Anyone could have visited this event, and our audience were volunteers and guests of the cultural center GOROD where the camp was held.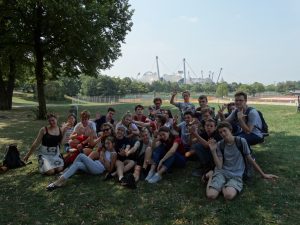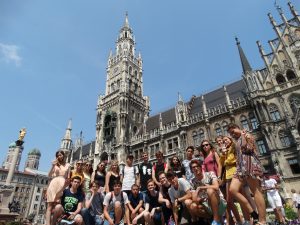 The cultural and educational program of the camp included excursions to Munich every afternoon, as well as day-long trips outside of the city. So we visited Westpark (which we had already fallen in love with), the unique Gamelan museum located in the Munich City Museum, the German Technical Museum, the Olympic Park, the zoo, the Ludwig and Maximilian University Munich, we made many walks around the city center, and also spent unforgettable time on the Lake Tegernsee and in Nuremberg, visiting its main attractions.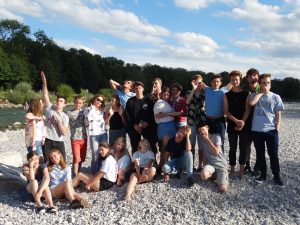 Each day of the camp had its own theme and idea, so excursions and evening creative activities were related to them. They were aimed at understanding the world, different cultures and educational systems, people and the participants themselves. The children were divided into two groups: the Super milky cynosure and the Pinguins' club — who plunged into a variety of creative affairs every evening. The most memorable events were the Trust Path on the Lake Tegernsee, the opening of the camp, shooting videos on the topic «We wild, but still wise» during a visit to the zoo, express projects in Westpark, photocross in the city center, unplanned swimming, Alena's birthday party, which had been prepared for for several days, the time on the Isar River on the last day and closing the camp.
Our whole life is one big project, and we will definitely meet in August, 2019 in Munich to continue working on it all together!