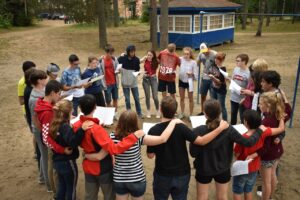 Inter­na­tion­al sum­mer camp in Orek­hovo, which took place in July 16–30, 2018 was exper­i­ment­al in a way: that was a new ter­rit­ory for the «For­mulo de Inegreco» (we still miss the oppor­tun­ity to run out on the porch of the main build­ing and lose our breath from the incred­ible beauty of the pine forest and the lake), and the new format — a col­lab­or­at­ive work of inter­na­tion­al and Rus­si­an camps. Par­ti­cipants from Rus­si­an cit­ies (St. Peters­burg, Moscow, Pet­roza­vodsk, Mur­mansk, Kon­do­poga, Kur­sk, Krasnodar, etc.), Spain, France and Eng­land met in one com­mon place.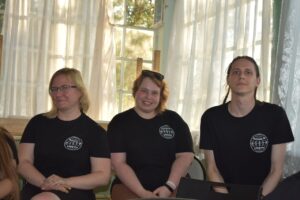 The «queen of sci­ence» — math­em­at­ics — became the core sub­ject (pro­file) of the camp. Three math­em­at­ic­al groups worked sim­ul­tan­eously: 2 groups in Eng­lish and one in Rus­si­an.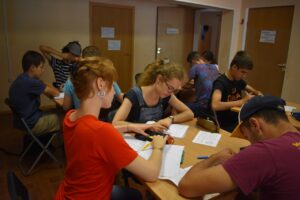 In addi­tion, the Rus­si­an-speak­ing par­ti­cipants of the camp could choose oth­er classes: psy­cho­logy, phys­ics and soci­o­tech­nics (it was in Orek­hovo where this sub­ject started).
The addi­tion to the «pro­file classes fam­ily» inspired the par­ti­cipants and organ­izers to keep a soci­o­tech­nic­al tone through the entire camp, so the ques­tions were raised ser­i­ously, the dis­cus­sions were heated, and the decisions were rather dif­fi­cult some­times.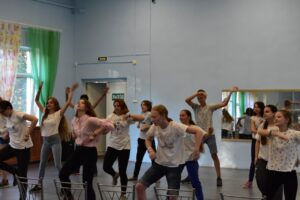 Besides, the format of the shift brought up many ques­tions: how can people from dif­fer­ent cul­tures, who do not have a com­mon lan­guage, still speak the same lan­guage? How to notice and help each oth­er under­stand some­thing cor­rectly and not to miss any­thing in time? Each par­ti­cipant learned to stand on the pos­i­tion of anoth­er per­son and try to under­stand him (some­times without words).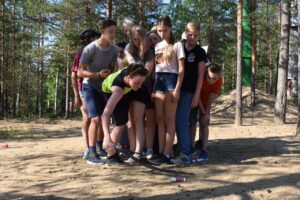 It may seem that the shift was very nerdy and ser­i­ous, but it wasn't not that — try to just look through the pho­tos in the blog — how many smiles are there!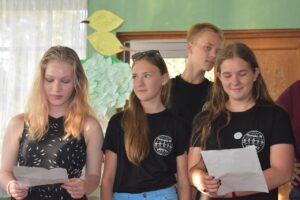 The shift was a The shift was a bit like a hol­i­day fest­iv­al (maybe it was the influ­ence of our guests?) — how many birth­days did we cel­eb­rate, what incen­di­ary even­ings were organ­ized (espe­cially that one with the cos­tumes, remem­ber?) Togeth­er we vis­ited the host­ess of a magic tav­ern, traveled to a com­plex but fas­cin­at­ing world of the future (this role-play­ing game las­ted more than four hours!), were in a rope park, listened to lec­tures on ocean­o­logy, archi­tec­ture and psy­cho­logy, vis­ited the museums of St. Peters­burg and walked along its sunny (!) streets, and also… All in all, you should have come with us, it was great!