Socio-edu­ca­tion­al pro­gram «For­mulo de Integreco» is glad to invite 14–18 years old stu­dents from all over the world to be part of the first spring inter­na­tion­al multi-dis­cip­lin­ary camp! Let's spend one week in the spring with bene­fit and together!
Dates: March 25–31, 2019.
Place: recre­ation cen­ter «Parus» on the shores of the Lake Suk­hodol­skoye in 78 km to the north of St. Peters­burg (Len­in­grad region, Pri­ozer­skiy dis­trict, Losevo), where we already spent many shifts of the FdI camp.
Liv­ing con­di­tions: lodging in rooms for 4 per­sons each, facil­it­ies on the floors; 6 meals per day (indi­vidu­al food require­ments can be met).
Infra­struc­ture: huge green ter­rit­ory, forest, own beach at the lake, sport facil­it­ies inside and out­side, ban­quet­ing hall.
Trans­fer: we meet each group and single par­ti­cipants at the air­port or rail­way sta­tions and accom­pany them to the camp by buses or taxi.
Excur­sions: unfor­tu­nately, there will be no excur­sion day dur­ing the camp. If you are inter­ested in sight­see­ing, we strongly recom­mend to stay in St. Peters­burg sev­er­al days before or after the camp. We can help in arran­ging budget accom­mod­a­tion for you.
---
Before filling in the regis­tra­tion form below please read «Participant's inform­a­tion sheet».
---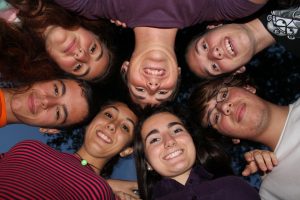 Daily activ­it­ies in our camp include two parts: edu­ca­tion­al (one sub­ject by choice) and cre­at­ive; both of them are obligatory.
This spring we offer par­ti­cipants a choice between the fol­low­ing sub­jects (pro­files):
math­em­at­ics,
phys­ics,
lin­guist­ics of Eng­lish lan­guage, or speak­ing Eng­lish (advanced level).
The list of sub­jects can be expan­ded. If you are inter­ested in a sub­ject not included in the list, please men­tion this in your regis­tra­tion form.
The lead­ers of the pro­files are spe­cial­ists in their fields, study­ing in or gradu­at­ing from the pres­ti­gi­ous uni­ver­sit­ies of St. Peters­burg and Moscow. As a res­ult of the pro­files' work, each group will cre­ate its own pro­ject by the end of the camp.
Teach­ing and com­mu­nic­a­tion in the camp will be in Eng­lish (required level of lan­guage is B2 at least).
---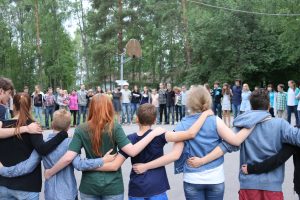 The «cre­at­ive» part of the day will be based on col­lect­ive cre­at­ive activ­ity in teams where par­ti­cipants of dif­fer­ent ages, coun­tries and sub­jects will be mixed. Each per­son will have a chance to become a camp life coordin­at­or for one day by dis­cuss­ing, cre­at­ing and organ­iz­ing the activ­it­ies togeth­er with the camp lead­ers. In addi­tion, par­ti­cipants of the camp will level up their skills of the appear­ing on the stage, the express­ing their opin­ions and defend­ing their views with the inform­al com­mu­nic­a­tion in English.
In the cre­at­ive part of the day (after lunch) the par­ti­cipants are waited for by such tra­di­tion­al for FdI camps activ­it­ies as:
dis­cus­sions and intel­lec­tu­al games,
role-play­ing and busi­ness games,
sport activ­it­ies and quests,
team-build­ing train­ings and group candles (even­ing reflec­tion in the groups on a cer­tain topic),
dances, songs, a lot of com­mu­nic­a­tion and many oth­er things.
Par­ti­cip­at­ing countries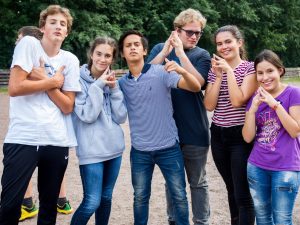 We expect groups from Bul­garia, Iran, Ecuador and dif­fer­ent regions of Rus­sia. Prob­ably, stu­dents from Mex­ico and Ger­many will join us too. The par­ti­cipants from any oth­er coun­tries are also welcomed!
Also you can read about the sum­mer inter­na­tion­al FdI camp 2016 in Rus­sia. Stor­ies about oth­er inter­na­tion­al camps are in «His­tory» sec­tion.
Fees
360€ for those apply­ing before Feb­ru­ary, 1st;
390€ for those apply­ing after Feb­ru­ary, 1st.
There are some dis­counts as well:
10% for par­ti­cipants of the «For­mula of Unity»/«The Third Mil­len­ni­um» Olympi­ads' final round 2019;
15% for par­ti­cipants with cer­ti­fic­ate of out­stand­ing achieve­ment of any inter­na­tion­al camp dur­ing sum­mer 2018.
The fee covers:
accom­mod­a­tion in the recre­ation cen­ter from March 25 to March 31,
6 meals per day,
edu­ca­tion­al, sports and cul­tur­al program,
trans­fer from the air­port or rail­way sta­tions in St. Peters­burg to the camp and back,
souven­ir set,
regis­tra­tion of a for­eign­er in the Migra­tion Office.
Meth­ods of payment:
bank trans­fer after pri­or sign­ing an agreement;
online pay­ment by a cred­it card
in cash upon arrival.
The organ­izers cov­er the lodging and meals for a one accom­pa­ny­ing teach­er for each group.
Con­tacts
Nat­alia Glushkova (camp man­ager and chief leader)
Face­book (link was removed on March 22, 2022 at the request of Rus­si­an legis­la­tion),
+7(911)082–83-08 (What'sApp),
Igor Zhukov (pro­gram chief manager)
Face­book (link was removed on March 22, 2022 at the request of Rus­si­an legis­la­tion),
+7(905)281–90-89 (Viber, What'sApp),
Also you can write us to the com­mon FdI e‑mail info@​formulo.​org.